Mobile self-checkout systems are a great option for allowing shoppers to check out quickly and for reducing labour costs. The customer scans and pays for the goods in the shop in the app on his/her smartphone, which creates a convenient shopping experience.
However, empowering customers with mobile self-checkout introduces a new kind of risk for theft. Consequently, the retailer has to introduce a new form of theft prevention. Luckily, there are plenty of ways to mitigate this risk.
Having built an advanced mobile self-checkout system for one of Europe's biggest retail chains, in this article we will share insights into preventing theft in mobile self-checkout.
The psychology behind self-service theft prevention
The psychology behind self-service theft prevention
In order to mitigate the risk of theft when introducing a mobile scan and go solution, it is important to understand the psychology behind theft.
There are two types of theft happening with mobile scan and go solutions. One type is carried out by regular thieves, and then there is the other type where some people that are not normally stealing are tempted to steal.
Think about this example. Many retailers have their products standing outside their stores where it is impossible for them to monitor what is going on. Anyone can grab some products and go. Why is this possible without it all being stolen fast?
The reason is that other people in the street would think it is strange if someone came and grabbed some products and just walked away. The absolute majority of people would be extremely ashamed if it even crossed other people's minds that they were stealing. For people that would not normally steal but could be tempted, it is extremely shameful to be caught. Only some hardcore thieves would perhaps not care much.
When you introduce a self-service solution, you risk tempting some people that get a product for free with a simple swipe. This naturally also applies to people that have the intent to steal from the outset. People that abuse self-service solutions in either of these two ways are called swipers.
So, what is the solution for preventing theft from swipers when introducing a scan and go solution? It is to implement facilities that both detect theft and/or give the feeling of a risk of being caught.
Below we give examples of these facilities.
Smart self-checkout theft prevention
Smart self-checkout theft prevention
To better understand how to prevent theft, let us first give some examples of how people can cheat with a mobile self-service solution.
Examples of self-checkout theft
In order to steal a product, a person can pick it up and pretend to be scanning the barcode. They can also scan and then later delete the product from the shopping list. Another way to steal is to take 5 items, scan one, and then input only 4 items in the self-checkout solution.
What all these approaches have in common is that the shop personnel and the other shoppers are supposed to be cheated into thinking that all the items have been scanned. The person is mimicking honest behaviour, and therefore does not feel that embarrassed in the middle of stealing.
Remember our example from the beginning of this article that if someone simply picks up a product outside the shop and walks away, this behaviour is suspicious and therefore feels embarrassing.
The risk of people unintentionally scanning items that are too small is real, but most people would be so embarrassed if this happened that they would rather scan too much than too little.
Mobile self-checkout theft prevention systems
Through the development of our ScanGo mobile self-checkout solution together with the large Danish retailer Salling Group, we have gathered a lot of insights and created advanced systems to prevent theft. Here are some of the most efficient systems that reduce theft, while also keeping the self-checkout shopping experience as convenient for customers as possible.
1. Randomised self-checkout theft control
One of the easiest ways to prevent self-checkout theft is randomised checkout control, which uses an algorithm to randomly select baskets for control before they leave the store.
If a customer's basket is selected for a random check, the ScanGo mobile app prompts them to go to the designated kiosk area for a check. Their screen is locked, making them unable to pay and leave the store before having their basket checked.
Available personnel are prompted to go and perform basket control. The employee checks if the scanned items match the items in the basket. If there are just a few items in the basket, the employee can simply approve the basket without a lengthy process.
If there is a mismatch, the employee can add items the user forgot/did not scan. The customer is given a choice to either decline to proceed with the purchase, or accept the corrections made by the employee.
When the customer accepts the corrections, the updated basket is sent to the customer's app, prices are recalculated, and the screen is unlocked. The total price reflects the corrections made by the employee during the control, and potential theft or misunderstanding is avoided.
If handled properly, your regular shoppers will understand that it is necessary to occasionally have checks to be able to offer frictionless checkout. On the other hand, shoplifters will be deterred if they know that there is a chance that their bag might be checked.
2. Mechanisms for banning or monitoring users
ScanGo self-checkout technology now also allows stores to introduce more specific checks in addition to random ones. Smart algorithms can based on behaviour (live or historic) determine if a customer should be selected for basket control.
With smart algorithms, the system can flag people who have had issues in the past, who showed strange behaviour when using the app, or who have an unusual mix of goods in their basket that might point to potential theft.
Employees have the ability to investigate the entire basket of a user and follow trends in order to further improve self-checkout checks. For example, there can be a prompt if a user scans and then deletes a lot of items before leaving the store.
If an employee notices or suspects that someone is stealing, they can mark that specific user as "suspicious" and every time that user scans a product, the managers are notified and can either force basket control or do a manual check. If a customer is caught cheating multiple times, they can also be suspended from using the app.
In advanced systems such as Sprinting ScanGo, intelligent selection for checkout control is also individually settable for every store. This way you can select the options that work best depending on the context of the store.
All of these smart mechanisms for monitoring make it much less likely that thieves would attempt to steal and be tempted to steal repeatedly at one store. What is also important is that there is less need to control non-risky customers.
3. Personal identification to prevent shoplifting
Self-checkout systems that require personal identification to use the self-checkout mobile app make it even less likely that people would shoplift as they are aware of the higher chance of being identified.
For example, our customer Salling Group associates users with their nemID, which is a personal identification number unique for each person in Denmark. Using this or other types of personal identification is a part of the registration when installing the ScanGo app.
If a customer is banned or monitored due to potential theft, they cannot reinstall the app or register again as a new user. This ensures that users are prevented from abusing the system by simply changing usernames, apps, or phones.
What makes personal identification efficient in theft prevention is the fact that every customer is aware that the store knows their identity, which makes them less likely to attempt undesired behaviours.
Personal identification is an excellent approach to preventing self-checkout theft without having to use unpleasant friction such as excessive theft checks. It makes the customer's experience more enjoyable, and the thieves less likely to visit your stores.
4. Setting up exit gates in the store
While exit gates are not a required part of mobile self-checkout, some stores can select to install them and integrate them into the mobile self-checkout system depending on estimated risk.
If an area is low-risk or the store does not want additional security, the retailer can simply allow people to pay with a swipe on their smartphone. Customers can then just leave the store without having to pass through an exit gate.
On the other hand, if additional security is needed, for example in high crime rate areas or high-traffic stores, the retailer can introduce or test the use of a scan and go solution with a security gate.
The Sprinting ScanGo solution with a checkout gate is very simple to use. When a customer pays for the purchase in the app, a QR code is displayed on their screen. To exit the store, the customer simply scans the QR code at the gate, and the gate opens and lets the customer out of the shop.
In case the customer is selected for basket control, their app locks before they get the QR code, allowing the staff to do their basket checks.
Exit gates are an extremely efficient deterrent for the self-checkout users who would otherwise be prone to attempt theft. They also enable customer-oriented retailers to provide their customers with a convenient, fast and frictionless self-checkout experience.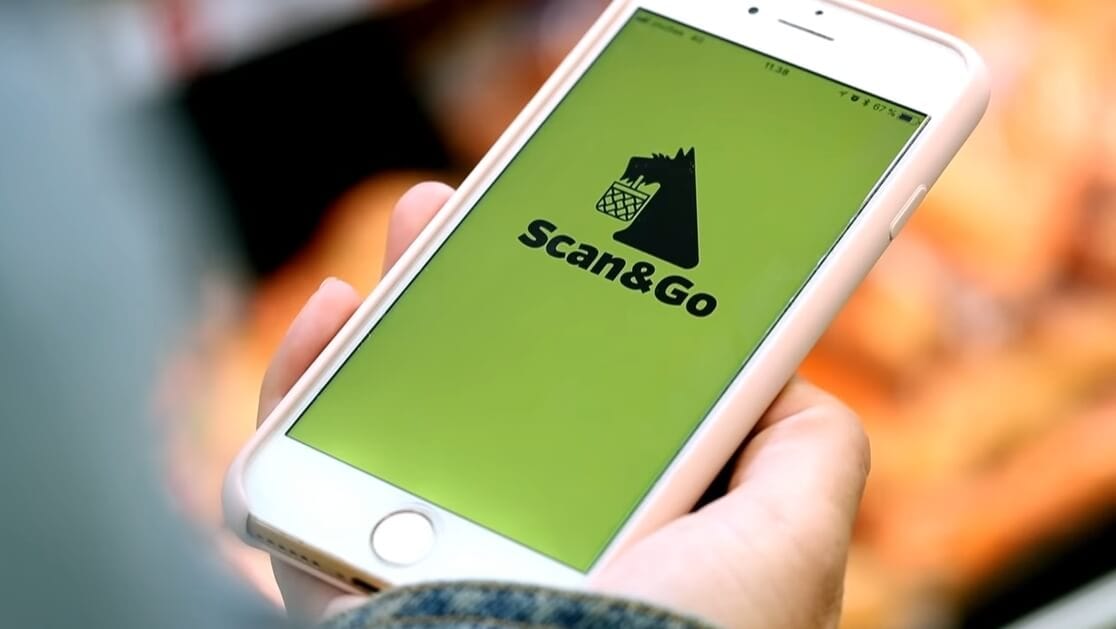 The theft prevention systems described above make it possible to significantly reduce mobile self-checkout theft, while also keeping the shopping experience as streamlined and user-friendly as possible.
With smart and innovative technological solutions, a lot of theft prevention challenges are becoming a thing of the past.
To learn more about how mobile self-checkout can improve customer experience and prevent theft at your stores, take a look at our overview of Sprinting ScanGo.
Want to talk more about introducing secure mobile self-checkout at your stores or our standardised solution ScanGo? Contact us to schedule a meeting or call +45 2888 8779.
A loyalty app is an essential tool for any grocery chain looking to increase customer loyalty and retention. However, to reap the maximum benefits from a loyalty app, it should also be a shopping tool and generate new revenue streams!
To grow sales, food businesses need to help customers to order in the way that suits them. Learn what makes a powerful food ordering system.
Events are a great way for retailers to learn about the latest trends and solutions. Read this post to find out about top retail events in Europe in 2020.
A loyalty app is an essential tool for any grocery chain looking to increase customer loyalty and retention. However, to reap the maximum benefits from a loyalty app, it should also be a shopping tool and generate new revenue streams!
To grow sales, food businesses need to help customers to order in the way that suits them. Learn what makes a powerful food ordering system.
Events are a great way for retailers to learn about the latest trends and solutions. Read this post to find out about top retail events in Europe in 2020.